Transmission Services
We offer full service for Porsche 944 and 968 model transmissions and differentials. We carry a wide selection of used OEM and custom internal parts and gears for Porsche 924/S and all Porsche 944 and 968 model transaxles. 
Please, contact us for placing orders or if you have any other questions.
Services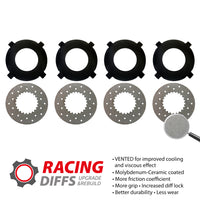 Official Distributor for Racing Diffs for the USA!
We are excited and proud to be the official distributor for Racing Diffs products for Porsche, BMW and Subaru in the USA!
Contact us for orders and product information!